What??? Another Presbytery Meeting?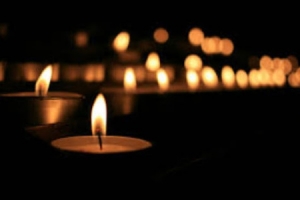 I know it feels like we just had a presbytery meeting last month. We did. We did meet in September AND we will be meeting in November. ( November 10 to be exact)
Why? In this liminal season of pandemic AND the New Jersey Presbyteries Transition the PCT felt it was very, very important to communicate and stay connected. Also critical during the pandemic to take care of presbytery business in a timely fashion. So many challenges and so much going on.
We opted to have more frequent and shorter meetings. ZOOM fatigue is a real thing and after a day of work, meetings and/or school, most of us don't need or want another extended meeting in the evening.
Another reason for the shorter format is an experiment of what future presbytery meetings may look like as we move into the NJ Presbytery transition.  Transparency, collaboration, communication and connections are essential as we move through our discernment and development as a new presbytery.
For this meeting, we do have time sensitive business with the NJ Presbytery transitions. We will be voting on moving forward with the new presbytery.  We will also be asked to vote on new staff position descriptions in order to help the transition move smoothly.
Speaking of the new presbytery…remember Newton Presbytery is not getting bigger. We are becoming a new presbytery. New presbytery does not mean a "blank slate". We will all be bringing our "stuff" to the relationship. There is no such thing as coming with a blank slate.  2021 will be the time when we will bring our histories, stories, baggage, innovation  and cultures to the table and try to sort out what to keep, what to let go and what to reset in order that we can work together to help our pastors and congregations on their journeys of faith and discipleship in their communities. This will take time, creativity and negotiation. My prayer is that we begin this new season anticipating and engaging all the wonderful opportunities for doing ministry together.
Back to the October Presbytery meeting. We will NOT be voting on the 2021 budget until November. The budget planning for 2021 is still in progress. Between the Pandemic and the transition determining a budget has been a challenge. The budget/finance team is putting the final budget together and will have it to us for the November meeting.
Worship for be a focal point of our meeting. Pastor Dale Selover will lead us in a time of reflection and storytelling on Ecclesiastes and Isaiah. She encourages each of us to have a candle to light during our worship time.
We will meet again in November for worship, the budget and more steps and plans for the Transition. I know it feels like a lot. For a smooth as possible presbytery transition and to explore our way through the Pandemic, it is essential to stay connected and to communicate.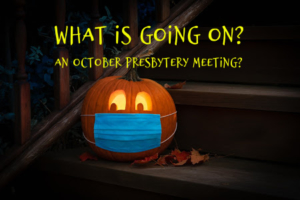 You are welcome to email me with your complaints and frustrations. I get it.  These are tough and challenging times for everyone. If you need to express that please feel free. Just be kind. I understand.