Announcing the Kingdom of God
Whatever we might want to think the Church is not on pause, or hold or whatever.
The Church, our faith communities, are still active and doing God's work.  The work may look and feel different, but we are doing it none the less.
Over these last months we have adapted. We have innovated. We have created. We continue to find new paths and directions through our liminal season.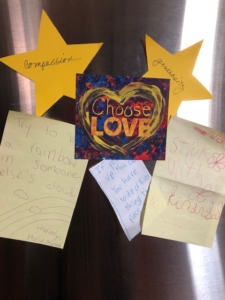 The Missional Practices are tools, habits, and practices we can continue to use during this time.
Announcing the Kingdom of God is the practice and habit of noticing and pointing out God's activity in your everyday life.  During this season we know God has been at work in our lives, in our congregation's and in our communities. What stories do you tell about God's activity?
My story of seeing God's activity starts early in the lock down if not just before. We started to find small notes left on our front steps underneath a rock. The notes had little sayings such as …. From the handwriting it was clear children had written the notes. My husband and I put the notes on our refrigerator along with our Epiphany Sunday star words.
My daughter moved to Florida less than a week before the lockdown. The new job and the move happened so quickly I am not sure we had any time to process what was happening and to prepare ourselves for the miles that would be between us for the first time. I started missing her terribly even before she left and had been making plans to visit her during the spring and summer.
Those notes were small reminders of care and kindness when I was having a bad day during the early days of pandemic or when my heart ached to be able to see my daughter again.  God's Kingdom, God's love and care, God's presence is on my refrigerator in the form of notes written by children.
What stories do have to tell about the God's Kingdom breaking into your daily routine, or slipping quietly into your life? Announcing the Kingdom of God is telling our stories of God's work, presence, care and grace into our daily lives.
Do you have a place in your Zoom worship or Bible studies or gatherings to share the stories of God's Kingdom in our daily lives? What about a place on social media to announce the stories of God's kingdom?  Where do you see God at work in your life as an individual or a community of faith? Tell the stories. Announce the Kingdom of God.